Mar
9
Mon
Social Role Valorization Including 10 Related Themes: A High-Order Concept for Addressing the Plight of Societally Devalued People and for Structuring Human Services

@ Aviva Centre at York University
This workshop provides an introduction to Social Role Valorization (SRV) using the 10 core themes, developed by Dr. W. Wolfensberger, considered one of the most influential thinkers in the world, in the field of intellectual impairment. Dr. Wolfensberger's work helped lay the foundation for many current human service trends, including integration, safeguarding of rights, and the deinstitutionalization movement.
SRV is a systematic and universally applicable concept for structuring human services strongly anchored in the empiricism of psychology, sociology, and long and broad human experience. SRV suggests a close relationship between the socially perceived value of the roles that people hold, and whether people in those roles will be accorded opportunities and other good things of life. Bad things tend to get done to people who are seen in devalued roles, and good things tend to be afforded to people in positively valued roles.
Topics to be explored will include the universality of social devaluation, the defining power of roles in people's lives, strategies for pursuing socially valued roles, or at least less devalued roles for devalued people with an aim toward improving their life conditions, enhancing people's social images, and enhancing people's competencies.
---
Tuition subsidies are available for Ontario families to attend this. The funding for these subsidies are a result of a 'Strategic Investment Grant' which represents funding left over from unclaimed/unallocated funds for the Ontario Institutional class action lawsuits. FAO would highly recommend this workshop for families who want to build a good life for their son or daughter with a disability that doesn't include segregated living or group activities.
---
Mar
17
Tue
ARCH and CILT's workshop on Attendant Services + Legal Clinic

@ ARCH Disability Law Centre
Mar 17 @ 11:00 am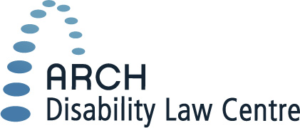 ARCH Disability Law Centre (ARCH) and the Centre for Independent Living in Toronto (CILT) invite you to our workshop on Attendant Services + Legal Clinic
ARCH and CILT will provide 3 repeat workshops for consumers of attendant services about their legal rights and self-advocacy strategies.
After each workshop, ARCH's lawyers will be available to give up to 30 minutes of legal advice and information to persons with disabilities on Attendant/PSW services issues. Please sign up for an appointment if you would like to take part in this free and confidential service.
Dates:
Thursday February 20, 2020
Tuesday March 17, 2020
Times:
Workshop: 11:00am – 1:00pm (Reception at 10:30 am)
Legal Clinic: 1:00pm – 5:00pm (30 minute sessions)
Place:
ARCH Disability Law Centre
15th Floor, 55 University Ave. (at King St. W.)
Please choose only one date as seating for each workshop is limited to 25 people.
Registration:
by Eventbrite: www.attendantservicelegalclinic.eventbrite.ca
or contact Robin at robin.simmons@cilt.ca or 416-599-2458 ext. 293
This FREE event is wheelchair accessible and promotes a scent-free environment. Please do not use products that have scents, fragrances or essential oils in them such as perfume, body sprays, lotions or other scented products including shampoo, conditioner, laundry products, etc.
Attendant services and light refreshments will be provided.
Reasonable reimbursement for transportation costs may be available. Please ask for this when making a reservation.
To request other accessibility accommodations and/or dietary restrictions, please inform Robin at CILT at least 1 week in advance of each workshop.
ARCH is primarily funded by Legal Aid Ontario, as well as other funding sources. CILT funding support provided by United Way Greater Toronto, City of Toronto, Toronto Central Local Health Integration Network (LHIN), and Independent Living Canada.